Lake Norman Festival of the Arts
I will be exhibiting in my second art show since moving to North Carolina in January! Lake Norman Festival of the Arts is a premier art festival in North Carolina. It is a Howard Alan Event. I am very pleased to have been accepted as one of the fine artists.
Art Festival dates are Saturday June 24th and Sunday 25th. Festival hours are 10 AM – 5 PM both days.
While it looks like a shower or two are forecast this weekend, the festival is a RAIN OR SHINE event, so come and enjoy the show, not matter how wet the weather might be!
Beautiful Reduction Linocuts
I will be showing and selling my reduction linocuts featuring flowers, shore birds, fish, scripture verses and OF COURSE, CATS! Come and enjoy my colorful, whimsical and lively work – and take home a few! I am excited to bring my work from Texas to North Carolina, and I look forward to seeing how my work is received.
More than 75 artists from across the country will be featured at the Lake Norman Festival of the Arts. The two day festival celebrates fine arts and crafts. Furthermore, the art media include printmaking, sculptures, photography, glass, paintings, ceramics, jewelry and mixed media.
Art Themes
I like to work with Art Themes, such as "Cats with Butterflies", a series of four linocuts that features cats with butterflies that match their coloring. They are:
– a calico with a viceroy butterfly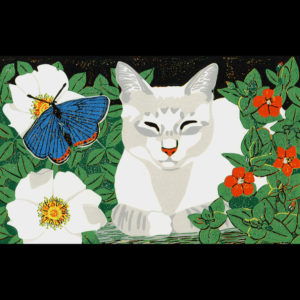 – an orange tabby with a fritillary butterfly
– a black cat with a black and green swallowtail butterfly, and
– a blue-eyed white cat with a blue butterfly
Also featured, "Naughty Cats" is a series of six cats doing very naughty things (eating house plants, drinking milk out of a glass, eating the floral arrangement…). A patron inspired the art when he commented that all of the cats featured in my art were very well behaved. "Don't you have any bad kitties?" he asked.
Want More Information?
For more information, visit http://www.artfestival.com/festivals/lake-norman-festival-arts-craft-marketplace
and on Facebook https://www.facebook.com/events/1097669050337140/