Centerfest Art Festival – My Second Festival in September
I will be exhibiting at 2017 Centerfest Art Festival in Durham NC! Please drop by and see my cat linocuts! I also have some wonderful new reduction printmaking pieces. And, new work inspired by the beautiful North Carolina spring!
I will be in booth C13 on W Main Street, in the center of the Festival!
Durham's Signature Arts Event
CenterFest Art Festival is located in Durham's lively Downtown District. It features 140 Artists. In addition, Live Music and Dance, and a Kid's Zone are a big part of the show, so there is fun for the whole family! The Festival is in its 43rd year. It is therefore the longest running outdoor juried arts festival in North Carolina.
Because of all that it entails, the event is a favorite among visitors. And, admission is FREE!
Festival Hours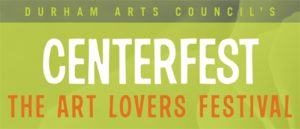 Saturday, September 16
10am – 6pm: Festival Hours
10am: Merit Judging Begins
Sunday, September 17
11 am – 5pm: Festival Hours
Directions
CenterFest Art Festival takes place in downtown Durham, about one mile south of I-85 and just north of the Durham Freeway (NC 147). Nearly the entire downtown Loop will be closed for Centerfest. Main and Chapel Hill Streets will be closed, as well as much of Corcoran and parts of Parrish. Morgan and Mangum Streets will be blocked off. Please be aware that you cannot drive to or park at the Durham Arts Council during CenterFest. Many municipal parking lots surround the CenterFest site, as well as neighborhood street parking. Some lots will charge a $3 special event parking fee while others are free.
Festival visitors are strongly encouraged to make use of the Bull City Connector, Durham's free bus route through downtown, as well as alternate methods of transportation such as bike riding, ride-sharing, and walking. (There also is a bike valet) The Bull City Connector only runs on Saturday.
Map
There is a lot more information on the Centerfest Art Festival Website, so be sure to check it out!