North Carolina Artist
I have recently relocated to Charlotte NC, and my temporary studio is up and running, with plans for a beautiful new studio in the works! Spring is in full swing and the bluebirds, cardinals and black capped chickadees are busy in the blooming cherry trees and dogwoods. It is truly lovely! I am getting inspired for new linocuts!
New Work in Progress!
Here are my thumbnail sketches for what I am currently working on.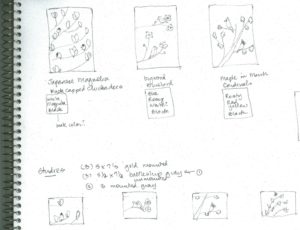 North Carolina Art Festivals
I have already been accepted for three North Carolina Shows:
April 29: Charlotte Art Collective Spring Show
May 6, 7: Charlotte Pet Expo
June 24, 25: Lake Norman Festival of the Arts
Events Calendar
I will update my Events Calendar on a regular basis as I am accepted to new North Carolina Art Festivals.