HOW TO CREATE REDUCTION LINOCUT PRINTS
By Anne Gaines, Artist
The question that I get asked the most often at art festivals is: "What is a Reduction linocut, and how do you make one?" The short answer is, "I carve a design in linoleum, roll ink on it, and press it on paper; the imprint is the artwork. I re-carve and print over the original image for each different color."
Here is a more detailed explanation:
Every one of my reduction linocuts begins with an idea, followed by a thumbnail sketch (a small drawing – mine are usually about 2 inches square).
I develop the sketch into a larger drawing the same size as the desired finished artwork (my favorite size is 12 inches by 12 inches, but I often work smaller), and add detail. This part of the process is critical; I must have a very good line drawing for this process to work, as the pencil lines become my cutting guides.
At this point, I choose my color palette. I reduce my colors to as small a number as possible (usually 3 colors for a small piece, and up to 12 colors for a large piece). I make notes on my sketch regarding what color goes where. I keep track of my colors as I print.
Next, I trace the drawing onto tracing paper with a pencil, fine-tuning the design (shifting a flower, correcting a line, adding details).
In order for the final artwork to look the way I want it to, I need to reverse my image. I flip the tracing paper over, place it on the linoleum, and rub the back of the paper. (I cut out portions of the tracing paper's edge in order to tape it to the linoleum.) Graphite from the traced image is transferred to the lino.
I remove the tracing paper and go over the lines with a pencil to darken them (this also helps keep them from washing off during cleaning). This piece of linoleum will become my printing plate. Now I am ready to start carving!
Before I print, I will need printing paper cut to the correct size. I like a ½ inch border all around my image, so my paper needs to be 1 inch wider and 1 inch longer than my linoleum plate. For example, for a 5 x 7 linoleum plate, I will need a 6 x 8 piece of paper. I use Arches 90# hot press watercolor paper. I need at least 2 more pieces of paper than the number of prints in my edition, to account for mistakes. I also use my first two prints to adjust colors, or see where I might need a little more carving (since these prints are different from the rest of the edition, I keep that as Artist Proofs, and number then AP1/2 and AP2/2).
I use Japanese wood cutting tools – they are v-shaped and u-shaped gouges of varying sizes, with wooden handles whose length is custom sized to my hand. I also use an X-acto knife for straight cuts, and a toothbrush to clear away small lino cuttings.
First, I always carve away areas of the lino that are to be the color "white" in the artwork (the paper becomes the color white in the print). The area that I carve away becomes lower than the surface of the lino, and it will not receive ink rolled onto the lino, and that area will not print. I usually print my lightest color first, but I will sometimes print the largest area of color first, to save ink, and speed up the printing process by laying down a large area of color. And, as a rule of thumb, I print my colors in the order of the rainbow (red-orange-yellow-green-blue-indigo-violet); I print black last. If I print with my lightest color first, yellow for example, I will print yellow-green-blue-indigo-violet-red-orange. For a three color print, the order might be green-blue-black. I find that colors cover better if I follow this rule.
So, once I have carved away all of my "white" areas, I can start printing! I roll ink (I use Dick Blick waterbased block printing ink) on the lino plate using a brayer (I put a blob of ink on a piece of Plexiglas and roll it out with the brayer until it is smooth and at the right conistency; if it is too thick it will clog up the details on the plate; if it is too thin, there will not be enough ink on the late for a good print. This step takes practice!)
LINO PLATE IN JIGI place the lino face up in the corner of my custom-designed jig (you can make your own from two L-shaped pieces of matboard, offset ½ inch and glued together), and carefully place the paper in the offset corner.
I then rub the back of the paper with a baren (you can use a wooden spoon, or even your hand).
I carefully peel back the paper and place it in my drying rack. (Note: You will be printing more of the first color before you carve again.)
You can also hang your prints on a clothesline, or lay them out on a table. Be sure to keep your prints in order! Because I am about to carve my lino for the next color (and I can never go back!), at this point, I print the entire edition plus the 2 extra pieces of paper that I cut. I put my prints in the drying rack in the same order that I printed them. I let the ink dry overnight.
I wash my lino, careful not to let the jute backing get wet, as it will shrink and cause the lino plate to curl. (I use a damp washcloth and a toothbrush, not scrubbing so hard as to remove my pencil lines.) If you used mounted linoleum, this is not such a problem (but you will need to revise your jig to accommodate the thickness of the mounted lino.) I also wash and dry my brayer and the piece of plexiglass. I let the lino dry well (usually overnight), as damp lino tends to tear when I try to carve it.
The next day, I carve away the surface of the lino that corresponds to the first color that I printed. This keeps those areas of color from being covered with the next color of ink. (The areas of the lino that I do NOT carve WILL get covered over with the new color of ink!)
Once I have finished carving, I repeat the inking/pressing/peeling/cleaning/drying process with the new color. I print directly over the papers with the first ink color on them, using my jig so that the artwork is properly registered (be sure that you have the lino and the paper in the same orientation as when you first printed). And, I keep my prints in order. Again, I let my prints dry overnight.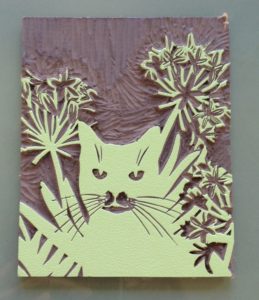 PRINTING PLATE AFTER CARVING, INKED WITH GREEN INK
Each successive day, I repeat my printing process until I have printed every color.
I let the prints dry thoroughly. I discard any blurred or imperfect prints. Using a pencil, I number the dry prints in order (if I have 30 total prints, I number them 1/30, 2/30, 3/30 … 30/30), under the image at the bottom left. I write the title of the artwork under the center of each image, and I sign and date each print under the image at the right.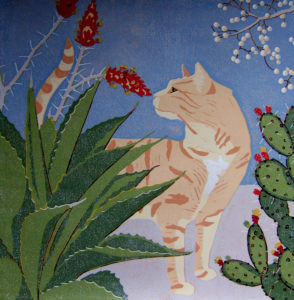 Because I use waterbased ink, the prints need to be protected by matting and framing under glass (as you would a watercolor painting). I store my loose prints in acid free boxes, and I store matted prints in acid free bags that I buy from Clearbags.com. I frame select prints to display and sell at art festivals.
Reduction linocut printmaking is a process of very specific steps, but if these steps are followed, it is an incredibly rewarding art medium. I often tell patrons at art festivals that they miss out on the most exciting part of my work: seeing the image emerge from the paper as I add each successive color!
(c) Anne Gaines 2018