Wow! Best in Fine Art!
There I was, sitting in my booth at the Matthews Alive! Arts and Crafts Festival, minding my own business, on the Saturday of Labor Day Weekend. A gentleman walked up to me, asking if my name was Anne Gaines. "I am", I answered. He replied, "I have good news for you!" and proceeded to introduce himself as Jim Taylor, Mayor of Matthews North Carolina, and to tell me that I had won Best in Fine Art for the Festival! What a lovely surprise, and quite an honor.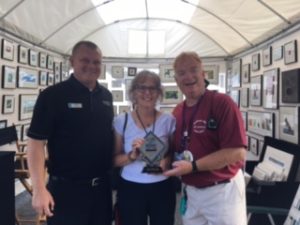 Here I am receiving my award from Mayor Jim Taylor (right), and Chris Boone, General Manager of Hendrick Chevrolet Cadillac in Monroe. They laughed at me, as all I could say was, "What a surprise! I am so surprised!"
It was so much fun to be recognized at my first outdoor festival in the Charlotte area!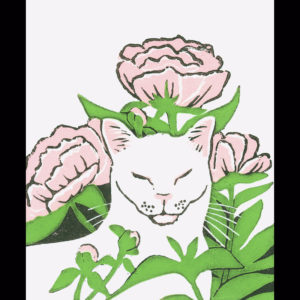 This wonderful little piece, Cat and Peony, made its debut at the Matthews Alive! Arts and Crafts Festival.
This show was extremely well-run, largely due to the show organizers and the wonderful volunteers. The weather for the show could not have been better! It was sunny and cool, after a week of rain. I sold some art, received a commission, was invited to join the Matthews Artists Guild, and received an invitation to apply to "A Crafty Christmas," a wonderful indoor show in Hickory NC in December, organized by Art Show Girls. Best of all, I met a lot of wonderful people. Thank you to everyone who came out to the show and supported me!